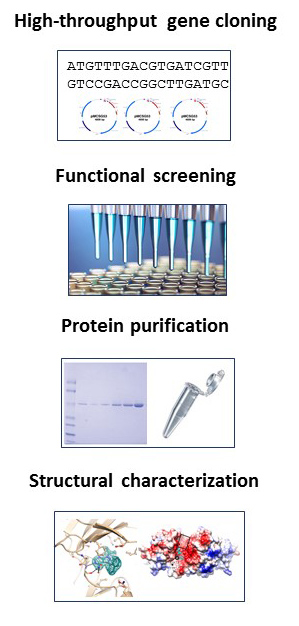 The BioZone Protein Production and Crystallization Facility specializes in
cloning,
protein production,
protein purification,
enzyme functional characterization,
and protein 3D structural characterization.
These services allow users to: assign function to genes, determine the molecular basis for substrate recognition,  identify the roles of sequence motifs in enzyme function, determine how to inhibit enzyme function, and tailor the properties (i.e. specificity, stability, catalytic rate) of enzymes.
The BioZone Protein Production and Crystallization Facility provides high-throughput services for functional analysis and molecular crystal structure determination with the capability to determine approximately 100 protein 3D structures per year. We have participated in numerous structural biology and structure genomics projects including those funded by NIH/NIAID, Genome Canada, NSERC and ORF.
The Facility houses:
essential protein purification and crystallization equipment,
chromatography/FPLC systems,
Mosquito crystallization robot,
specialized crystallization reagent screens,
Rigaku Micromax-007 x-ray diffractometer system.
In addition to advanced instrumentation the facility houses thousands of cloned genes and characterized enzymes and a highly experienced, specialized, and collaborative team with 40+ years of collective experience in molecular structure determination and interpretation.